It's been a little while since I posted an image from WM Pro, so here's another output result from a test file a bit ago: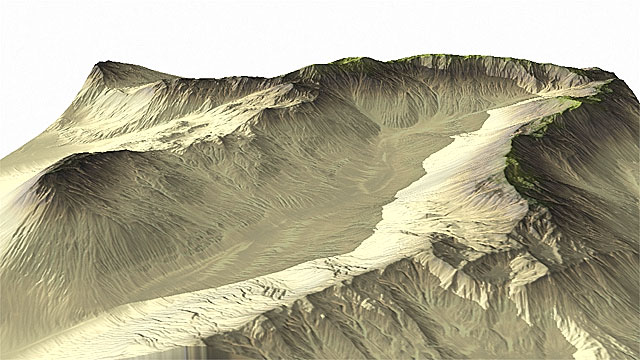 The mountains were defined by layout shapes guiding a perlin generator, routed through regular+thermal erosion for the geometry modelling. The texturing was done quickly by dropping in one of a couple coverage macros I created.
Since we've seen several of these "final result" images so far but I've been pretty close-lipped about what the creation process is. So I'm going to post a few screenshots of the creation process as well to give you an idea.
Here's the Layout Shapes defining the mountain ridges: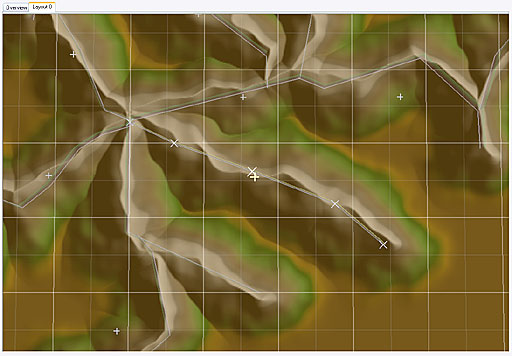 I've cropped out most of the UI as it's still not in finalized form, but you get the idea… Next, here's the device graph to produce the first image: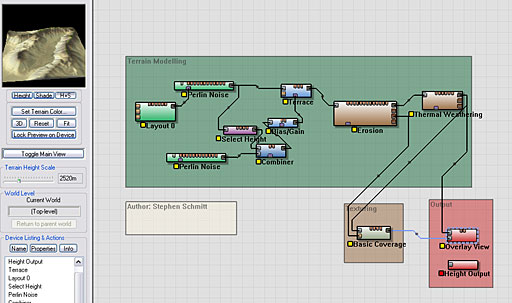 As you can see, Layout Shapes are contained within a Layout Generator device that neatly sits in the device graph like any other. You can have many different Layout Generator devices to create different sets of shapes for different purposes; One might create landform shapes, another might provide fine-tuning of effect application locations, etc.
Also note that the coverage/texturing ability can be abstracted via macros to complete simplicity. To go from the typical WM 1.0 height-color-mapped output to a nice output texture required only dropping in a "Basic Coverage" texturing macro and then picking some colors in the properties window for the macro. Dead simple. To export the texture map in addition to the heightfield, one would simply add a "Bitmap output" device, and connect the output to that.