Sorry for the lack of updates recently, they have reflected a bit of a hectic period that has limited WM development time. Things are easing up at the moment, however, and getting back on track.
Anyways, as promised a while ago, here's a first screenshot of part of the Layout Mode UI: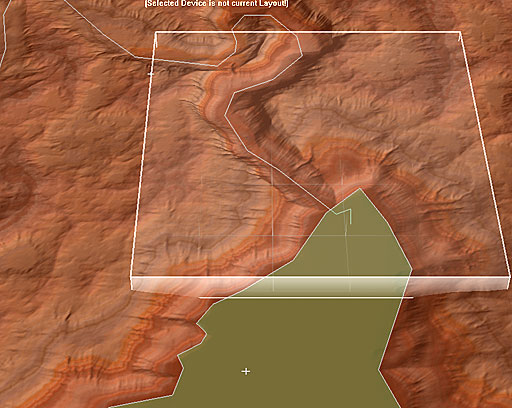 A bit of an explanation:
Layout mode lets you "lay out" terrain features, filter mask areas, etc with vector graphics. In the shot above, WM has Layout Mode activated, and you are viewing a layout in the view. The current layout has two shapes defined; a sketchline and a polygon. Each has a falloff profile defined, and the sketchline has profile vertices setup to adjust the height of the canyon as it goes.
Overlayed underneath the layout shapes is the output of the layout generator. Or more specifically, the result of the layout generator after other nodes such as noise and erosion have been combined. This ability lets you "draw" your shapes into a layout generator at the beginning of your network, and see the results from a node near the end; after the whole pipeline has been applied to it. This is a pretty cool ability, and even works if you overlay an RGB net atop the terrain, which is rather neat.
Other neat stuff has also been added since the last update, such as a sortable tabbed toolbar with a customizable "favorite devices" tab, Output Ports (allowing you to wire from one output to multiple inputs without using a splitter), and more. Hopefully A-3 will make it out to the test team finally relatively soon, which is starting to represent a feature-complete status for a good chunk of Pro.