Getting Started
A multi-part beginner tutorial series is included in your download. This set of 9 tutorials will get you started with terrain creation and modification.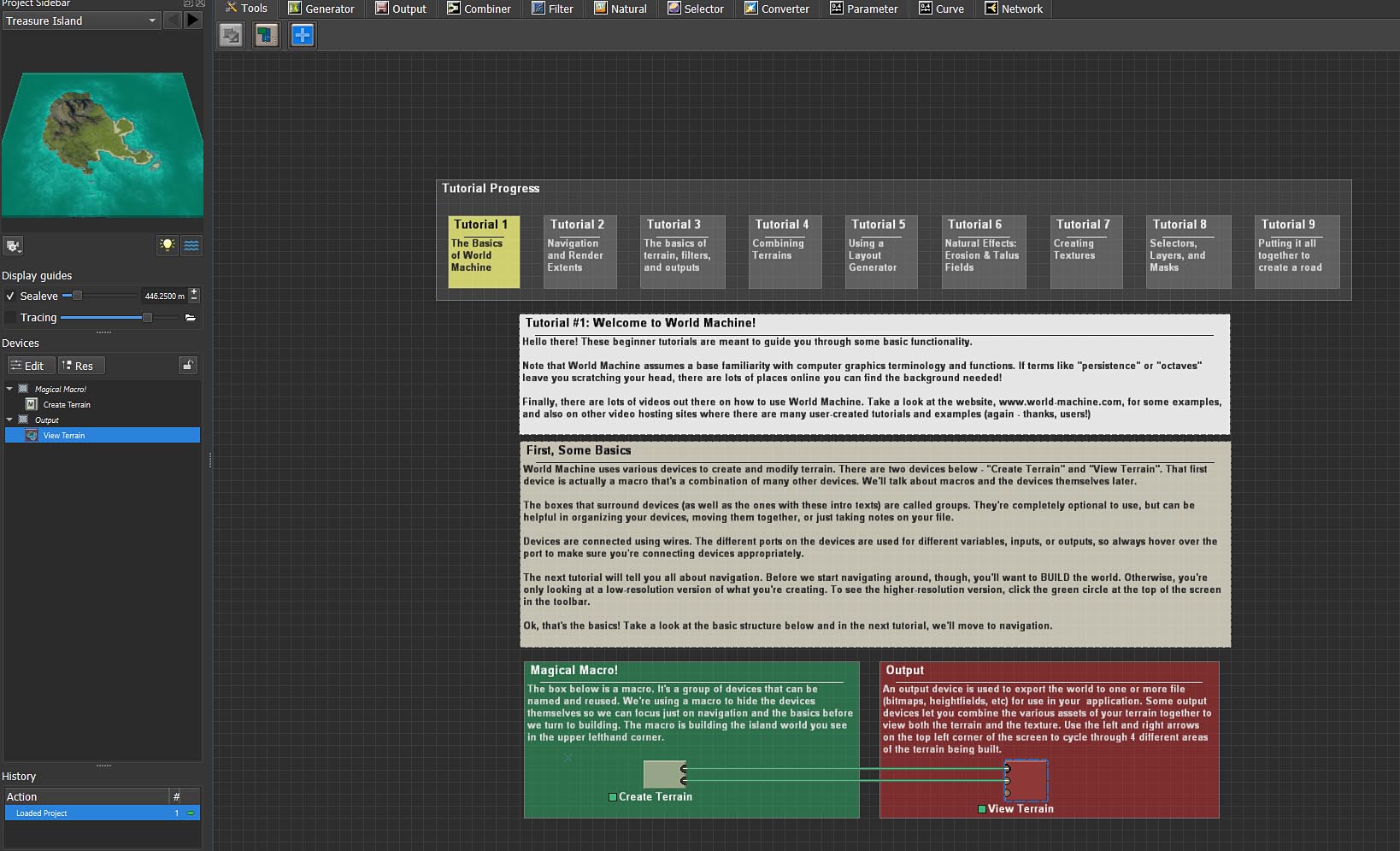 Within World Machine, select "Open Example World" under the File Menu. Experiment with modifying the example files to learn how it all works!
Once you're feeling comfortable with the basics, take a look at some of the other included example worlds (again, by choosing "Open Example World" in the File menu). These range from instructional demos to complete scenes, and can help you understand how to use devices and build a larger world.
"What's Up, Doc?"
You can find the official documentation and reference material at the Help Center. Head over there now to learn more!
Visit the Helpcenter
---
Community Resources
Tutorials & Videos
View tutorials
There are several beginner tutorial videos that you can access on the World Machine website itself. In addition, there is an amazing community around terrain generation that has created many excellent videos of how to use World Machine (thank you, users!).
Take a look at your favorite social media such as Youtube to find some great additional tutorials and examples. Which brings us to...
Official Forums
Visit the Forums
Bring your questions, or just browse and learn from new and experienced World Machine users alike. The forums are a friendly place where people are willing to help you learn World Machine.
Macro Library
Another tool to take advantage of are macros. A macro is a device created within World Machine which creates some useful effect. For example, there are various macros to add terrain texturing, create pre-specified terrain types, or determine how a river behaves. World Machine ships with a small selection of macros, but you can find more online in our Macro Library.
The Macro Library is full of user-created macros for World Machine. You can find all kinds of useful effects and shortcuts compiled by other World Machine users. Maybe you have something of your own you'd like to share?
Gallery
The gallery is a place to show off your works that have used World Machine, to both appreciate and provide inspiration for the work of others.
We hope these resources help get you started with World Machine and provide inspiration for your terrain generation projects!